I was introduced to the sport of pickle ball in 2015. As with many people, I was instantly enamored with the sport, the strategy, awed by the difficulty (it looks so easy when you watch from the sideline), and enjoyed the social aspects of meeting nice people, making new friends, and talking all things pickle ball. There's a lot for a beginner to know and a it helps to have an expert guide you to maximize your efforts and keep you moving in the right direction.
I've played in tournaments since 2016, recently obtained my PPR (USAPA) pickle ball instructor certification, and have been teaching community lessons in Cherry Hill, Pennsauken, and Mount Laurel.
As your pickle ball instructor I'll teach you the basics of game play & scorekeeping, work with you on skills development, and teach techniques, tactics and strategy guaranteed to raise your skill level.
All classes will begin with warmups and include skill appropriate drills, drilling games, student specific instruction and practice game play geared toward incorporating the lesson that day.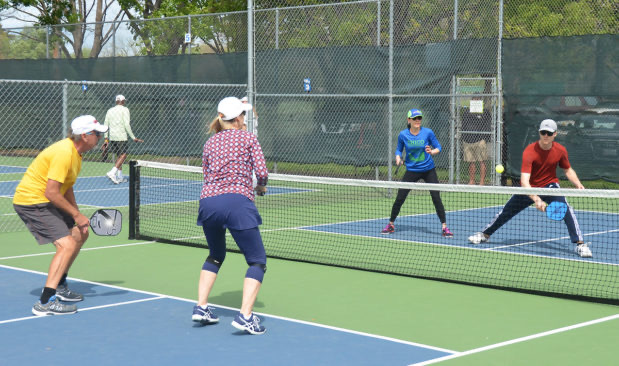 Advantages of Working with an Athletic Trainer
When you work with a qualified trainer as your coach you bring quality planning and direction to your program, providing opportunity for big gains in skill level through proper assessment, relevant drills and practice, and appropriate evaluation of your training results.
You'll be motivated work hard, your pickle ball instructor will keep your sessions fun and goal oriented, you'll develop a strong grounding in the fundamentals of game play, understand how to make the most out of positioning and shot making for any circumstance, and supercharge your progress!
Dan Cantor Fitness utilizes established techniques of athletic training to help clients obtain great results. For pickle ball we'll focus on power generation, strength, mobility and stability to optimize your hitting and movement proficiency while minimizing injury potential.
Beginners will be taught the basic rules of the game, scorekeeping, grip and stroke technique, the history of the game, the court layout, equipment, and game preparation. We'll cover safety practices and have a focus on sportsmanship.
Instruction will consist of 4 basic drills with the how's and why's relating to play.
Focus for improvers will be on drills ( of course), grip, position, stance, and swing mechanics for most situations a player will face in game play. Drills will focus on those skills required to achieve a 3.5 player rating, which is the standard for most recreational play.
We will solidify your 3.5 skills and focus on those skills and strategy's that will allow you to play competitively with more advanced players. Beyond this level athleticism becomes a factor, If necessary we'll spend time on conditioning in order to allow winning points in competitive games against 4+ players. We will also continue to build on your skills with more advanced drills and shotmaking development.
All of the above with a focus on altheticism, power generation, and quickness. We'll also continue to build on your skill set with more advanced drills, team strategy, shaping and shotmaking development.
Drills Drills Drills!
Hi volume
Hi Quality
Hi intensity